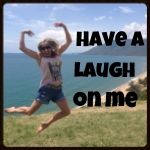 This week's 'I must confess' is being hosted over at 'Have a Laugh on Me!', with the gorgeous Emily, who makes me snort & giggle week in week out with her take on life, family, parenting & other morsels of hilarity that pop into her head! I mentioned my big bloggy love for her recently in another I must confess, so it is lovely to be able to link up with her & share this week's topic, of DIY Disasters. As my blog focuses mostly on cooking, it seemed fit to follow the theme through & look at DIY -
Now … being the fantabulous cooking rock star that I am, I of course never, ever make mistakes … BAHAHAHAHA! Yeah right! Truth is I make them, but I just don't take photos to prove it! Good thing for me, plenty of other people do & I have put together a few of my favourite DIY Cooking Disasters for your viewing pleasure!
Yeah … I've done a couple of these DIY Birthday Cake Disasters in my time – my first attempt at making my son's 1st birthday cake was meant to look like a Teddy Bear – it looked more like a big lumpy brown piece of elephant poo – lucky it tasted a lot better!
Thankfully attempt number two went much better & I was willing to share that one on the party day!
WTF??? Apparently this is meant to be a turkey … hmmmmm?!?!?!
Because it makes sense to think you can cook PASTA in a COFFEE MAKER!?!?!?!
How about these …
The caption reads, "Tried to make chocolate covered bananas today. Got dick pops instead." Love this … it made me laugh out loud when I saw it! :p
This is not my photo, but sadly I recently made something similar when I mistakenly thought I heard the oven timer go off while in the midst of all kinds of kid chaos. I quickly ran in, pulled the cake from the oven & went back to the chaos. When I finally got a chance to 'turn the cake out', the middle was raw & plopped itself onto & straight through the cooking rack! It wasn't the oven timer, it was one of the many noisy toys we have that just sounds like the bell on my oven. Would have been a ripper of a cake too – bloody kids!!!
Finally, if you haven't seen this guy – then you should – he is a walking, talking DIY Cooking Disaster – if you want someone to put you off, or confirm your lack of enthusiasm for cooking … he's your man!
You have to give this man props for having a go, buuuuut, well … it's hard to describe, just go HERE & watch for yourself, go on – DO IT! Classic stuff!
Well there you have it, my DIY Disaster contribution. I hope it gives you some smiles to start your week!
Thanks Em for hosting! Mwah! xx
Cheers,
Jodie xx
Cook! Eat! Enjoy!